Telling Aircraft Tails: A History of Britain's Airlines in 40 Aircraft (Hardcover)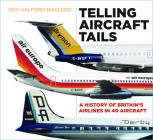 $50.00
Email or call for price.
Description
---
The registration letters painted on an aircraft's tail are like its number plate: they can reveal the story of an individual aircraft and its different roles during its working life. Inspired by this novel way of looking at aviation history, Guy Halford-MacLeod follows the checkered and multi-faceted careers of 40 different airliners to present a compelling insight into the wider story of British aviation: larger-than-life characters, politics, the aircraft manufacturers, the state-owned corporations, the independent airlines, some unwilling buyers, a lot of coercion, big financial losses, cheap holiday charters, and, inevitably, going bust—the full story of Britain's airlines and the aircraft they used. This heavily illustrated book delves into the tales of a fascinating selection of aircraft, including many of Britain's finest airliners now preserved at museums around the country, to present the development of Britain's airline industry.
About the Author
---
Guy Halford-MacLeod worked for four independent airlines in Britain between 1971 and 1995, including Dan-Air and Air 2000, of which he was a founding director. He spent time as a research volunteer with the National Air and Space Museum in Washington, DC between 1997 and 2010, and during that time The History Press published Britain's Airlines in three volumes. He lives in Philadelphia.