Flying Legends 2023: 16-Month Calendar - September 2022 through December 2023 (Calendar)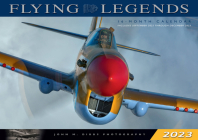 Description
---
Relive the style, might, and glory of classic air warfare with Flying Legends 2023, a 16-month wall calendar featuring 13 full-color images of classic warplanes in flight!

Take to the skies with the legendary warbirds pictured in this stunning calendar. With a handy page that shows the months of September, October, November, and December 2022 followed by individual pages for the months of 2023, each photo is accompanied by all the fun-to-memorize stats for each plane, including its ceiling, its bombload, and the powerplant where it was built.

The 17" × 12" calendar images are the perfect size for framing, so when 2023 comes to an end, you can continue to admire these mighty warplanes.

This is a great gift for the history nut, military buff, or veteran in your life. From launch to landing, Flying Legends 2023 will have you feeling sky-high all year!
About the Author
---
John M. Dibbs' air-to-air photographs have been cover shots on every major aviation magazine in the past decade, and his books include dramatic pictorials on legendary warbirds such as the Mustang and Spitfire. His photographs are also the basis for the acclaimed Flying Legends and Air Superiority annual calendars. He lives in Seattle, Washington.