Grow Up, Ant-Man! (Hardcover)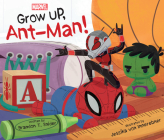 $12.99
Usually Ships in 1-5 Days
Description
---
Ant-Man is a very mischievous Super Hero. So it's up to Cassie to tell her dad to GROW UP!
Watch as Ant-Man shows you just how big he can grow. Can Ant-Man grow bigger than the Hulk? Can Ant-Man grow bigger than the Avengers Tower? But what happens when Ant-Man grows TOO BIG?!
Told using playful repetition, this story will have parents and children alike saying "Grow Up, Ant-Man!"
This book also includes your very own growth chart printed on the inside of the book jacket!
Complete your Marvel picture book collection with these best-selling fan favorites:
Spider-Man: Far From Home: Spider-Man Swings Through Europe!
Captain Marvel: Beware the Flerken!
Captain Marvel: What Makes a Hero
Night Night, Groot
First Day of Groot!
Snow Day for Groot!
Spider-Man, Spider-Man!
About the Author
---
Brandon T. Snider has authored the award-winning Dark Knight Manual, as seen in Entertainment Weekly, Time, Forbes, and Wired. Additionally, he''s written books featuring Cartoon Network favorites like Adventure Time and Regular Show, Marvel''s Spider-Man and Doctor Strange. Brandon has also written for and appeared on Comedy Central''s Inside Amy Schumer. As an actor he''s appeared on Late Night with Conan O''Brien, Chappelle''s Show and Law & Order: SVU, as well as various commercials, stage productions and short films. Brandon lives in New York City, where he''s a member of the Writers Guild of America and SAG-AFTRA. Find him on www.cootiekid.com.