The World Is Flat 3.0: A Brief History of the Twenty-first Century (Abridged / CD-Audio)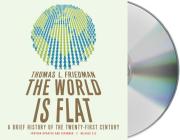 Description
---
When scholars write the history of the world twenty years from now, what will they say was the most crucial development in the first few years of the twenty-first century? The attacks on the World Trade Center on 9/11 and the Iraq war? Or the convergence of technology and events that allowed India, China, and so many other countries to become part of the global supply chain for services and manufacturing, creating an explosion of wealth in the middle classes of the world's two biggest nations? And with this "flattening" of the globe, has the world gotten too small and too fast for human beings and their political systems to adjust in a stable manner?
About the Author
---
Thomas L. Friedman is an internationally renowned author, reporter, and columnist-the recipient of three Pulitzer Prizes and the author of six bestselling books, among them From Beirut to Jerusalem and The World Is Flat.

He was born in Minneapolis in 1953, and grew up in the middle-class Minneapolis suburb of St. Louis Park. He graduated from Brandeis University in 1975 with a degree in Mediterranean studies, attended St. Antony's College, Oxford, on a Marshall Scholarship, and received an M.Phil. degree in modern Middle East studies from Oxford. After three years with United Press International, he joined The New York Times, where he has worked ever since as a reporter, correspondent, bureau chief, and columnist. At the Times, he has won three Pulitzer Prizes: in 1983 for international reporting (from Lebanon), in 1988 for international reporting (from Israel), and in 2002 for his columns after the September 11th attacks.

Friedman's first book, From Beirut to Jerusalem, won the National Book Award in 1989. His second book, The Lexus and the Olive Tree: Understanding Globalization (1999), won the Overseas Press Club Award for best book on foreign policy in 2000. In 2002 FSG published a collection of his Pulitzer Prize-winning columns, along with a diary he kept after 9/11, as Longitudes and Attitudes: Exploring the World After September 11. His fourth book, The World Is Flat: A Brief History of the Twenty-first Century (2005) became a #1 New York Times bestseller and received the inaugural Financial Times/Goldman Sachs Business Book of the Year Award in November 2005. A revised and expanded edition was published in hardcover in 2006 and in 2007. The World Is Flat has sold more than 4 million copies in thirty-seven languages.

In 2008 he brought out Hot, Flat, and Crowded, which was published in a revised edition a year later. His sixth book, That Used to Be Us: How American Fell Behind in the World We Invented and How We Can Come Back, co-written with Michael Mandelbaum, was published in 2011.

Thomas L. Friedman lives in Bethesda, Maryland, with his family.
Oliver Wyman
, a native New Yorker, has appeared on stage as well as in film, and television. He is one of the founders of New York City's Collective Unconscious theater, and his performances include the award-winning "reality play"
Charlie Victor Romeo
and A.R. McElhinney's cult classic film
A Chronicle of Corpses
. He also lent his voice to several episodes of the Teenage Mutant Ninja Turtles. Oliver's work as a narrator extends to over 150 audiobooks and has won many him awards, including Audie awards for his reading of Lance Armstrong's autobiography,
It's Not About the Bike
, and Thomas L. Friedman's
The World is Flat
. He also read James Frey's
A Million Little Pieces
, Tim Dorsey's
Atomic Lobster
, and David Weber's
By Schism Rent Asunder
. Oliver has won five Audie Awards from the Audio Publisher's Association, fourteen Earphone Awards from
AudioFile
Magazine
, and two Listen Up Awards from
Publisher's Weekly.
Oliver was named a 2008 Best Voice in Nonfiction & Culture by
AudioFile Magazine
.
Praise For…
---
"Excellent...[This book's] insight is true and deeply important... The metaphor of a flat world, used by Friedman to describe the next phase of globalization, is ingenious." —Fareed Zakaria, The New York Times Book Review (cover review)

"Captivating . . . an enthralling read. To his great credit, Friedman embraces much of his flat world's complexity, and his reporting brings to vibrant life some beguiling characters and trends. . . . [The World is Flat] is also more lively, provocative, and sophisticated than the overwhelming bulk of foreign policy commentary these days. We've no real idea how the twenty-first century's history will unfold, but this terrifically stimulating book will certainly inspire readers to start thinking it all through." —Warren Bass, The Washington Post

"No one today chronicles global shifts in simple and practical terms quite like Friedman. He plucks insights from his travels and the published press that can leave you spinning like a top. Or rather, a pancake." —Clayton Jones, The Christian Science Monitor

"Friedman . . . nicely sums up the explosion of digital-technology advances during the past fifteen years and places the phenomenon in its global context. . . . He never shrinks from the biggest problems and the thorniest issues." —Paul Magnusson, BusinessWeek

"[The World is Flat] is filled with the kind of close reporting and intimate yet accessible analysis that have been hard to come by. Add in Friedman's winning first-person interjections and masterful use of strategic wonksterisms, and this book should end up on the front seats of quite a few Lexuses and SUVs of all stripes." —Publishers Weekly (starred review)