Why Does He Do That?: Inside the Minds of Angry and Controlling Men (Compact Disc)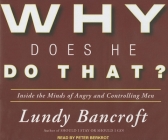 Description
---
He says he loves you. So...why does he do that? You've asked yourself this question again and again. Now you have the chance to see inside the minds of angry and controlling men-and to change your life. In this groundbreaking book, a counselor who specializes in working with abusive men shows you how to improve, survive, or leave an abusive relationship. You will learn about: -The early warning signs -Ten abusive personality types -The role of drugs and alcohol -What you can fix, and what you can't -How to get out of a relationship safely.
About the Author
---
Lundy Bancroft is one of the world's foremost experts on domestic abuse and a former codirector at Emerge, the nation's first program for abusive men.

A veteran of stage and screen, Peter Berkrot held feature roles in "Caddyshack" and Showtime's "Brotherhood," and his audiobooks include "The Woods" by Harlan Coben and "Country Driving" by Peter Hessler. "Library Journal" described Peter's narration of "When the Whistle Blows" by Fran Cannon Slayton as "a brilliant job of personalizing each of the men in Jimmy's life."
Praise For…
---
"This is essential reading for those in the helping professions and highly recommended for all libraries, especially those in communities with emergency shelter programs." ---Library Journal Starred Review