Booker D. and the N.G.s - A Chronicle of Saratoga (Hardcover)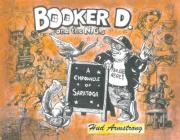 $60.00
Email or call for price.
Description
---
This book is about those folks who decided to stay and work here in Saratoga and keep their home fires burning brightly. Its for those who in the spring, hit their home fronts and work places with a fervor. Its as though some rider in Paul Revere fashion had raised the alarm: COMPANY'S COMING!!
The book is for the "New Guys" who have found themselves wanting to be part of the goings-on in one of the craziest, but most fulfilling necks of the woods anyone has had the pleasure to live and work in.
CARRY ON!!
About the Author
---
Hud Armstrong, the author/Illustrator, was born in Chicago, Illinois in 1945. His family moved into the Saratoga Region in 1946. He later studied Art at SUC at Buffalo and the Boston Museum School of Fine Arts. After serving with the U.S. Army from 1966 to 1968, he would travel the country, tend bar and do commercial art work throughout the years, mainly in and around Saratoga Springs, N.Y.
He tended bar in many of the places that have given Saratoga its colorful distinction. The Tint and Lint, The Hub, Gaffney's, Moriarty's, Siro's and 9 Maple Avenue and is proud of his journey. His Artwork included advertising, murals, illustration, portraiture, caricature and of course…cartoons.
He still resides in Saratoga and does pretty much the same thing.